Since I don't have anything to spin right now, I decided to do some crocheting. Because I
had
to do something that I can finish before mid-August. I get this way in late June and July, in anticipation of the County Fair. The Fair booklet came in the mail a couple days ago, and I spent a happy half-hour browsing through it and thinking about what I'll enter this year.
I spent a lot of time recently re-doing Dad's sweater, and I can't enter that since I already did, so I don't really have a lot to enter this time. Mostly what I've been doing is spinning, and I'll enter at least three of those skeins (the laceweight merino/silk, the Rambouillet x Cormo, and one of the Colonials, as well as possibly the black laceweight alpaca), but I want to have other things too! The hardanger sachet will go in, and a woven chenille scarf, and four pairs of socks, and a little knitted doily, and a child's knitted hat, and a crocheted snowflake mobile, and possibly the alpaca shawl (though maybe not, as my spinning wasn't great for the yarn). Oh, wait. I guess I have been doing things besides spinning!
But I do want to enter some crochet things. San Juan County has lots of knitters and weavers, but not many crocheters, so that category always looks a little sparse. Since I enjoy crochet, I always try to put several things in. Plus, I'll admit, I like the reduced competition for Best of Class in crochet.
So, on Monday night I made this bookmark (it's not blocked yet, so ignore the wiggly edges):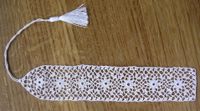 This is crocheted out of tatting thread (#80 crochet cotton), using a #14 steel hook. It's about 7" long, not including the tassel. It was originally a
table runner pattern
, written for #10 crochet cotton (each motif 4" square). I just used six of the motifs (mine are 1" square) and modified the seventh to be a triangle instread of a square. Very pretty, quick, and satisfying.
Then yesterday, I started this:
This is a pattern from 1917, republished by Old-Time Crochet Magazine. I found it as a freebie on
FreePatterns.com
. (Which is a pretty good site- you have to sign up to see the patterns, but they do have some nice ones, and I don't think I've ever gotten spam from them.) As written, for #10 crochet cotton, it comes out 30" across. I'm making it in sewing thread, and as you can see, it's
quite
a bit smaller. That's 21 of 60 rounds finished, and just under three inches across! That's about four hours' work.
I don't know why I like crocheting doilies so much, especially doilies out of such ridiculously fine thread, but I do. They're completely useless, except to be so pretty. It's so fun, though, to see people's faces when they look at super-fine-thread crochet and ask me how I can do that! Maybe that's showing off or bragging or whatever, but I get a kick out of it.