Whee! Quilting is fun! I finished the Ohio Star quilt top last night! I can't believe the piecing is done already!
Monday night- put together one complete block.
Tuesday- cut out the pieces for the rest of the blocks and pieced together all the triangle units.
Wednesday- finished piecing the 12" blocks, cut out the sashing and border pieces, and stitched everything together.
I really like the way the fabrics work together in this. They just look happy. You can't really tell from the picture, but both the yellow and the white fabrics are prints, not solids. The yellow has a tiny floral pattern of dark gold on yellow, and the white has a white-on-white print of small leaves. And then of course, there's the ladybug fabric that always makes me smile. Emma loves it, and wanted to "go ny-ny" with it last night. She was very upset when I told her it wasn't done and she couldn't sleep under it yet.
After I finished the quilt top, I was still in a fibery mood, so I started some little hardanger sachets to sell at the fair. These will get sewn into stuffed ornaments similar to the one I showed here, but with lavender inside. Each one takes about 2.5 hours to stitch, so it's about the same time to make one of these as one of the crocheted sachets, maybe a little longer.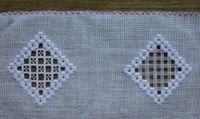 The one on the left is finished, and the one on the right has the cutwork done and the threads removed, but still needs the needleweaving and dove's eyes. I thought it was neat to show the stages of hardanger.