Despite the fact that my backyard looked like this: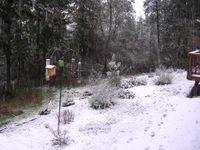 again yesterday, spring really is coming to the Pacific Northwest. We had about an inch of really wet, sloppy snow early Sunday afternoon, to the point where our satellite reception was zilch. This sent Shaun into a fit of panic that he wouldn't be able to see The Game, so he and all the other people he'd invited over decamped and went to another friend's house whose satellite dish was still receiving a signal. Emma and I had a lovely afternoon with the house to ourselves, spent napping and knitting, respectively.
Today, of course, the snow is completely melted and it's in the mid 50's. Emma and I went on a nature walk around our yard this morning, to see what kinds of plants are poking up in our new yard. It's like Christmas, all the surprises! We found----
hydrangea buds popping...
daffodils almost blooming....
lupine leaves unfolding....
and many more leafy green things. The former owners of the house did a fairly decent job of landscaping. There are iris, heather, lavender, rosemary, wooly thyme, oregano, daisies, poppies, allium, snapdragons, gladiolus, and I don't know what all else. It'll be fun seeing it all come into bloom.
I got lots more knitted on the handspun alpaca shawl this weekend. I'm on the last pattern repeat, then I just have to do the top border. Yay! I also spun 4 more ounces of the Ramb x Cormo. I only have four ounces left of the first batch of carded fiber, then I'll have to do up some more.
I almost succumbed to the temptation of swatching the finished Ramb x Cormo yarn, but I resisted. I need to finish the shawl first.