Emma and I have been doing some more gardening. In the past few days, we have planted four boxes for the back deck rail
with petunias and verbena. When we were at the garden center, Emma gravitated right to the purple petunias, just like she did to the purple pansies last month. This girl likes purple! I got some white verbena and purple and white striped petunias (which aren't blooming yet) to balance them out so the boxes wouldn't just be solid purple.
We also planted a large round pot of petunias to go next to the pansies on the front porch and two hanging pots of fuchsias to flank the front door. These don't look like much now, but hopefully they will fill out nicely.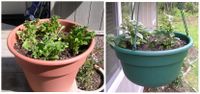 The garden center had pre-made baskets of fuchsias that are already blooming, but I didn't want to pay $28 each. Besides, it's more fun to plant them myself! Each of mine cost $5 for the hanging pot, about $1 for the potting soil, and $.50 each for three fuchsia plants. Two hanging pots for a total of $15, rather than $56. Much better.
While we were outside planting all these and doing some weeding, I was able to add more birds to my yard list, bringing the total to 35 species seen in the yard since December. The ones I added recently include the
Yellow-rumped Warbler
,
Orange-crowned Warbler
, and
Black-throated Gray Warbler
. Warblers were one of my favorite parts of spring in North Carolina and Maine. There is nothing like the springtime warbler migration on the East Coast. The west coast just doesn't have the diversity of warbler species that the east does.
Birds are hard to take pictures of, but I was able to snap a couple of other critters we saw in the yard…
This is a Pacific tree frog (
Pseudacris regilla
), a very cute little fellow. These are amazingly noisy for their size (less than two inches).
And this is a Pacific Forktail damselfly (
Ischnura cervula
), very dainty and delicate, one of three species I've seen in the yard so far.