I've been eagerly watching the rest of my amaryllis ever since the
Minerva
finished blooming a couple weeks ago. Minerva ended up with four flowers on one scape (stalk). It doesn't look like there will be a second scape, and it's started growing leaves now. Still, it was a nice show and has a healthy bulb.
On to the bulbs in bud! This is a Red Lion that I got last year when I tried to buy a Minerva . This one has TWO scapes this year! I put my amaryllis outside during the summer, and this one evidently was very happy. Usually it takes a couple years before I get double scapes after I get a new bulb.
The next four are new bulbs to me this year. This is Christmas Gift, which will have large single white flowers. This was the biggest amaryllis bulb I've ever gotten- it's fully 6 inches in diameter. I'm hopeful that this may produce three scapes, but only one is showing at the moment.
This is Aphrodite, which will have ruffly double flowers, white with a medium pink wash on the ends of the petals.
This is Elvas, which will have very ruffly double flowers, white with dark pink centers. After I took this picture, I noticed something suspicious on the side of the bulb and unpotted it to have a look. I found a largish spot of rot extending a couple layers into the side of the bulb. I had to do surgery to cut out the rot so it's looking a bit ragged now, and we'll see how that affects the flowering. But I'd rather have a live bulb and no flowers this year, than a dead bulb and no flowers ever.
This is Apple Blossom, and though new this year, it sadly seems like it's not going to flower this time around. It has six very healthy leaves, but no sign of a scape. So I may be in suspense for another year as to whether this bulb-in-a-box is actually Apple Blossom, or something else (which is what happened last year).
These three are Red Lions. Left to right, they are from 2011, 2014, and 2008. The 2011 one was supposed to be Minerva, and 2014 was supposed to be Apple Blossom. But that's OK, because Red Lion is pretty too.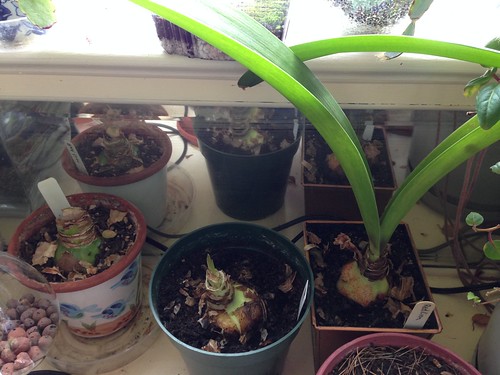 The 2008 bulb was a Christmas present from my dad, and has bloomed faithfully every year. I'm not sure if it going to bloom this year, since there's no sign of a scape yet, but I haven't given up hope. It seems like it usually blooms around March.
I didn't repot 2008 into fresh soil last year or the year before, so it may be that it didn't store up enough energy last summer to produce blooms. Ah well. I repotted all three of these into fresh soil after I took this picture.
And here's an overview of my plant window. It gets pretty crowded during the winter, and especially so this winter. In addition to the orchids that are there year-round, there are all the plants that go outside during the summer: the amaryllis (amaryllises? amarylli?), a ponytail palm (the big spiky one on the far left, which I've had since 1998 when it fit in a 1.5" pot), two jasmines, two fuchsias, a kaffir lime, a turmeric, and Emma's front-porch begonia (which didn't fit on the plant counter, but is on the dining table to the right of the picture and getting very leggy).
I really need to keep winter space availability in mind when I go plant-crazy in the summer.