I finished the little aran sweater on Saturday night. I'm quite pleased with the way it came out, especially considering I was making it up as I went along. It fits the (tall for his age) 5 year old boy I babysit for, who I sort of had in mind when I was estimating the size, pretty snugly though, so I'll probably sell this one at the county fair in August and knit him another one so he has room to grow. This would be a better fit on a 4-year-old or average 5-year-old.
After I finished the sweater, I felt like spinning, so I dug around in the closet and found this colonial top, purchased off Ebay, in a pretty heathery violet purple color. I don't think this wool is
quite
as soft as the turquoise colonial top I spun up a while ago, but it's still very soft and yummy. The main color is vibrant purple, but it also has royal blue, magenta, and lavender in it.
I spun one full bobbin last night, about three hour's playtime. This morning the bobbin and Emma and I went for a nature walk around the yard to find a photogenic spot to show off the singles. We discovered that when this top is spun, the color deepens to the exact shade of the lupines in my front yard.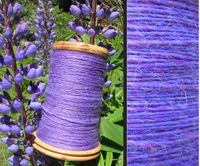 I love the way a multicolor top spins into a yarn with so much life. The colors swirl around each other, and it really gives the yarn depth. I have 2 1/2 pounds of this top, and I think it will become either a sweater or shawl for me-me-me.
While we were walking around, we encountered this lovely Western Swallowtail butterfly (
Papilio rutulus
) nectaring at the lupines:
And this California Darner dragonfly (
Aeshna californica
) perched on the grass nearby.
As you can see, the grass is fairly tall, but it makes better wildlife habitat that way, rather than scalped into a golfcourse lawn!