It's done!!
But I feel like an idiot. Remember when I said a couple days ago that my sewing machine was so bare-bones that I couldn't do free motion quilting or even lower the feed dogs? Well, I was rummaging through the accessory box that came with the machine, looking for a different presser foot that wouldn't grab the fabric so much, and I found this:
This is a darning foot. I registered this fact, then had to do a double take. Why would the manufacturer have included this foot with my machine, when you have to be able to lower the feed dogs in order to use it? I pulled out the manual, and sure enough, there on page 19, it shows how to lower the feed dogs.
I looked in the manual years ago, to see how to lower the feed dogs. I just KNOW I did. I'm POSITIVE. But obviously I'm wrong. Either I read these directions and forgot them, or missed that page of the manual, or something. I've had this machine for ten years, used it quite a bit, and I didn't even know I could lower the feed dogs. Pitiful.
So anyway, I put the darning foot on and played with free motion quilting a bit. It's hard! I drew a simple rope-type border on the quilt, and just went for it. It OK, though it would have been easier if the machine was flush with the table top, since there wasn't much room for my hands to hold the fabric.
I probably could have quilted these lines using a regular foot and the feed dogs, but it was good practice to do it without. Wiggly lines and all, I like the way it came out. And I like the way the quilt as a whole came out.
Emma likes it too. I had just barely finished taking pictures of the spread-out quilt, when she grabbed it and started hugging it. She held onto it all through Sesame Street,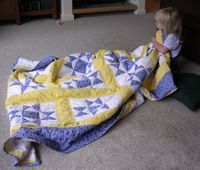 and dragged it behind her down the hall when she went for her nap, insisting on having it in the crib with her even though it's a pretty warm day.